Thermal Imaging Video Camera Solutions
Temperature Screening CCTV in NJ
Introducing Thermal Video Camera  Solutions and Temperature Screening using CCTV Security Cameras. Temperature screening uses thermal video cameras to detect fevers within seconds.
Times have changed and New Jersey businesses need to prioritize what they can spend for the health and safety of their employees & guests.
As a direct result of this change, Central Jersey Security Cameras is bringing you a major preventative measure for businesses and large places of gathering.thermal video camera
Thermal Video Solutions can

scan the temperature of up to 30 people at once

.
Benefits of Thermal Video Security
Screen anyone with seconds and avert a potential disaster, or even loss of life

Know who you are coming in contact with

Know who is entering your workplace/school/church

Know who is touching your surfaces

Know who is interacting with your employees

With this technology being placed in the entrance or foyer of your facility, you can oversee the health and identity of anyone entering. more about thermal video benefits
School Safety & Security
Schools see hundreds of children and staff walking in and out every day. Preventing a sickness or infection at its infancy can be crucial in educational establishments. Following the school day, each child can go home and spread the infection to their family. The implementation of thermal Video cameras/temperature screening stations in the school's entrances or nurses' office is one of the best measures a school can take to keep their students and staff healthy and safe. Thermal Video
Church Security Solutions
Churches and other places of worship can have high numbers of attendance. This can make it a very high-risk environment at a time when sickness or infection is being spread. With Temperature Screening CCTV cameras being placed at the entrances, all guests can be checked on to maintain a safe and sanitary gathering.
Business Security
Maintain a sanitary work environment by keeping an eye on your employees and guest's health via Thermal Imaging Cameras. This can be implemented in offices, medical centers, waiting rooms, and more. The camera systems take just seconds to detect faces of individuals and display a temperature reading. This allows for a wide number of areas that the for the thermal Imaging cameras can be placed.
High Efficiency
You can get a highly accurate reading of someone's temperature within seconds of them being in the frame of the camera. Because of this high-efficiency, there is no added congestion to your site during the screening process. The thermal cameras can be placed in a location that already acts as a queue or pedestrian path such as at the entrance of your facility.
Safety
Our Thermal Video Camera systems allow for non-contact temperature measurement. The risk of infection is greatly reduced because of the lack of physical contact. The Temperature Screening can provide accurate measurements from about 10 feet away.Thermal Video, Thermal Imaging Video camera
Thermal Imaging Camera Options in New Jersey
Thermal Bullet Camera (DS-2TD2617B-6/PA)
128GB SD Card
Standard 1/4″-20 Tripod
Professional Installation
This camera model is manufactured by Hikvision and is FDA approved. It is safe & non-intrusive
Bullet Thermal Video Camera Screening Setup
The Bullet Thermal Security Camera (DS-2TD2617B-6/PA) offered by us can be mounted on a wall or on a standard 1/4″-20 tripod. It is recommended to be placed approximately 10 feet away from guests in a controlled environment such as a foyer or entryway. This camera is paired with a monitor unit or mobile device to view the temperature screening on-site. Compatible with optional NVR (LTN8608D-P8), available for purchase separately. PTZ Cameras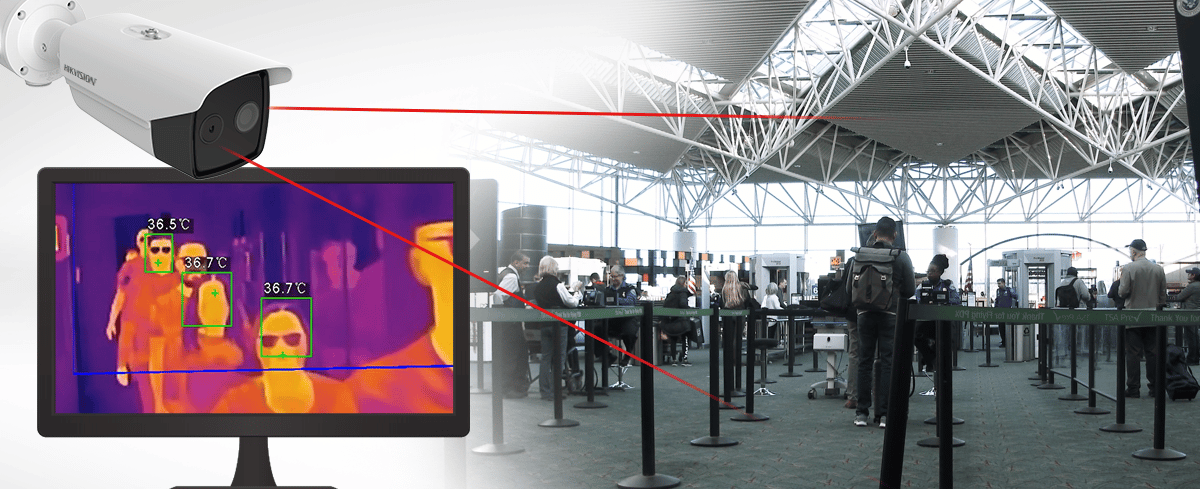 Handheld Thermal Video Camera
The handheld thermal video camera (DS-2TP21B-6AVF/W) is specially designed to detect elevated skin-surface temperature with high accuracy in real-time. It can be used from 6 1/2 feet away and has a built-in display monitor on the camera itself. The built-in monitor and ease of use make this the perfect portable thermal security solution. This handheld camera can be widely used for preliminary temperature screening in office buildings, factories, stations, airports, and other public places.

Thermal Handheld Camera (DS-2TP21B-6AVF/W)
This camera model is manufactured by Hikvision and is FDA approved. It is safe & non-intrusive
Temperature Check-In Kiosk
$3,699
Temperature Check-In Kiosk (DS-K1T671TM-3XF)
Professional Installation
This camera model is manufactured by Hikvision and is FDA approved. It is safe & non-intrusive
Temperature Check-In Kiosk
The Temperature Check-In Kiosk(DS-K1T671TM-3XF) is a thermal temperature screening solution that can be mounted on a wall or optional free-standing floor mount (DS-KAB671-B) for contact-less screening. Operations can be monitored in real-time via a tablet or computer.
The installation process is seamless- a single Cat5 cable is run from the unit back to your facilities network.
The Thermal Check-in Kiosk also includes facial recognition technology. This facial recognition can be paired with door mechanics to act as a bio metric authentication access control system. (additional equipment may be necessary)
First, it uses facial recognition; then it measures a temperature threshold to allow entry.
Compatible with optional NVR (LTN8608D-P8), available for purchase separately.

Fever Detection
Fever Detection via a thermal camera is less intrusive than for example an exergen thermometer placed on an individual's forehead. The cameras have an accuracy level of ±0.5 °C (0.9°F) and is operated remotely without directly contacting any persons during the scanning process. You have complete control to set the temperature at which the alerts/temperature is detected.
Embedded Audio Alarm
Alarm integration can be customized to your liking. In the occasion a fever is detected, you can choose for a real-time alert to be sent to the mobile device of your choosing or for the camera itself to make an audible beeping sound. Additionally, we can install an exterior alarm, siren, or strobe light to be added to the system.
New Jersey's Best Security Installers
NJ Burglar/Fire License: #34BF00057400
Equal Opportunity Employer: #53458
Business Registrations: #1692823
Public Works Contractor: #723769