Commercial – Business Security Systems
Can You Afford to Let Your Business Go Unprotected Any Longer?
As a business owner, you probably know that a commercial security system is a priority. Whether your security will be used to track guests, or keep an eye on your own staff; security solutions can be implemented to meet many different needs.
The flexibility of surveillance cameras for businesses means you can watch over a cash register at a commercial retail location, or even parking lots to follow foot traffic and capture other forms of identification such as vehicles, Other implementations of surveillance cameras could be in foyers, waiting rooms, and entryways. By having security cameras visible in these noticable locations, such as entryways, you could drastically decrease the odds of criminal activity at your business location. The cameras being in sight at all times acts as a reminder to potential criminals that they are being watched. This is one of the biggest deterrents used to prevent criminal activity at places of business and commercial outlets.
Alarm systems act less as a deterrent to prevent crime, but more as a defensive tool in the case of an emergency. If a burglar decides to commit a crime and you are equipped with an alarm system, they will quickly be greeted by the loud beeping of your security system. This is often enough to make the criminal flee. If that is not enough, and they still decide to stay, the police will soon be called to the scene to arrest the criminal. Alarm panels equipped with Central Station Monitoring are constantly being checked by professionals 24/7. If the alarm system goes off and is not disarmed in time, your Central Station Monitoring company will dispatch police to the location. Central Jersey Security Cameras alarm systems can be paired with our Central Station Monitoring company of choice, COPS Monitoring.
In this economic environment who can afford exposure and uncertainty? Security cameras are key to loss prevention. In the first year business owners typically see a reduction in theft by at least 5% according to an independent study.
Benefits of Owning Commercial Video Security Systems :
Over the years, literally thousands of commercial customers have told us: "I can't understand how I've lived without a video security system for so long." In addition to catching criminals, a well-designed system offers countless benefits that will protect your assets, result in a safer environment, and help you more effectively manage your business or home.
Here are 10 ways your video security system will pay for itself:
Deter Criminals

One of the primary benefits of a video security system is to deter a criminal act from ever happening. Therefore, well placed cameras will give would-be criminals reason for pause, or send them looking for locations less prepared.

Prevent Theft

According to recent retail industry studies, the average small business loses $50k per year. And given the current economic conditions and ease at which criminals can move stolen products, the risk of both internal and external theft has skyrocketed. Likewise, It's proven that a simple video security system can easily cut that figure in half.

Improve Productivity

According to reports, the biggest cost businesses face today is workforce productivity. Security cameras help to keep people on their best behavior when you're not there, and enable a manager to monitor work habits on his own schedule.

Reduce Liability

Many criminals look to benefit by making false claims against companies. Lacking evidence to defend themselves, businesses literally get robbed blind with zero recourse. Video security is an effective deterrent to this criminal activity, and can contest these claims should they occur. NOTE: False claims often stem from employees reporting incidents outside your security system's field of view. We recommend that businesses augment their traditional video with covert cameras, so no one knows where safe havens for both crime and false claims are, and where they are not.

Protect Intellectual Property

Your unscrupulous competitor would pay dearly to know your company secrets. Strategically placed cameras can help prevent those with access and intent to stealing your intellectual property think twice.

Manage Remotely

Many video security systems feature software capable of viewing multiple facilities from a single location. This can dramatically reduce your equipment expense and management overhead costs, and allow managers to oversee company wide operations despite geographic and time challenges.

Enhance Customer Experience

Many retail businesses use their video security systems to study customer shopping habits, optimize store traffic patterns, improve product placement, and ensure a positive customer experience. More effective employees + increased sales + satisfied customers = one happy manager.

Streamline Operations

The video is commonly use in manufacturing or fulfillment environments to monitor equipment. In result, quickly identifying problems that may cause delays or bottlenecks. The video is also used to provide valuable insight into process effectiveness, and to make sure a business or operation is appropriately staffed.

Validate Alarms

Business owners and managers alike lose hours of sleep responding to false alarms that their business has been broken into. With a networked video security system, validation is just a mouse click away and you can get your sleep or enjoy your vacation.

Deliver Peace of Mind

Ultimately, business managers and homeowners are simply looking for peace of mind protecting their assets and providing a safe and secure environment for employees, friends, and family. And in the event of incident, knowing they are empowered to bring the offender to justice something only a video security system can deliver.
We stand behind our work by offering various levels of service agreements to our customers
Many insurance companies may offer a discount when you install a commercial security system
Over 20 years of industry experience
Scheduled quarterly visits
Free evaluation of your current security system

Reasons for Installing Commercial Security System :
Loss prevention
Monitor employees
Inventory control
False allegations
Harassment as well as other claims
The ability to view 24/7 anywhere in the world and much more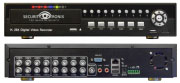 We specifically design a commercial security system based upon your commercial and business needs using quality manufacturers and distributors.
We are located in Freehold, NJ so please call for a no pressure on site evaluation.